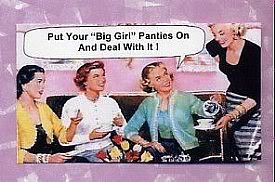 Thanks to all of your prayers that by the way are already working, I got up this morning and put on my Big Girl Panties! Who could not do just that after reading all your lovely encouraging comments. You never let me down and always know what to say to get this ole gal going.



Your loving comments touched me just like Warden Henderson's words if not more. So what if these test are not what we want to hear then it's nothing left to do but to kick butt and fight. A lot of you have been through this yourselfs and did not sit around having pity parties you put on your Big Girl Panties and beat it.




Knowing you as I know you I had to do this post before the weekend because I did not want you worrying about me over the weekend. I am okay and to show you I am not taking this lying down I made up my bed this morning. lol Since my accendent I have been in this bed so much it hardly ever gets made up.
My cat scan is scheduled for 10am Monday morning. They have not scheduled my throart surgery yet.
My next post will be about my pool therapy yesterday afternoon. I might even include pictures. Too crazy
was that experience. You should of seen me this morning when Tinberbell was slapping me awake for her breakfast....I almost had to crawl to the kitchen...I think I overdid the therapy. lol
Remember I love and appreciate each of you!
What happiness there is when I awake to find near me the gift of a Morning! ..Abbie Graham
and you as my friend....Maggie