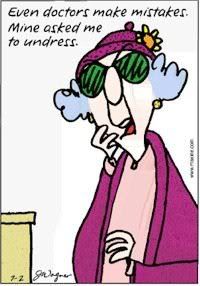 Hi there just wanted to check in with all of you today and see how you are doing! The last time we talked I was moaning and groaning about having a colonoscopy and you once again pulled me together by leaving me such hilarious and some helpful comments.





Today I wanted to update you on the latest happenings in this never ending cycle of the crazy life of Maggie. When the nurse called and scheduled the colonoscopy they made it for 8:45 Friday morning in College Station. So I agreed and then she calls me back about thirty minutes and later and told me that the doctor had looked at my file and saw that I need my throat surgery done too. Well much to my surprise she said that he was scheduling me for both at the same time. Whoa I thought I misunderstood the woman.



I did not mean to scream into the phone but pretty sure it came out that way I said, "You mean this doctor does both ends!" She sort of laughed and said "Well I guess you could put it that way!"



I am sorry but I guess this ole grandma has lived such a sheltered life because not in my wildest dreams would I have thought that I would be going to get a colonoscopy and at the same time have my throat stretched. Did this man not make enough money doing doopers as my grandchildren call them( they won't let me use word butt) so he starts doing throat stretches too.

So I told his nurse which I am sure she has heard it a hundred times before, "Well I guess that's ok but only if he does my throat first!" I would hate to think of him getting confused and using the wrong instruments for the same surgery.



I know gross right but you know when someone tells me something that does not quite seem right to me my mind goes ninety to nothing thinking of all the possibilities. It has been two days since my talk with her but I still can not imagine a man that is smart enough to do both ends.



They sent me to the pharmacy for my prep kit and boy am I excited about doing that today. Nothing to eat today for this ole gal but liquids. Thank goodness I can have my Diet Dr. Pepper. Honestly if they had taken that away from me they would have had to comatose me for the whole day. So at noon I take two pills and then around four the drink from hell is to be taken every 10 minutes until it is all gone. Who are they kidding it will take me an hour to drink one glass full. Then the fun should begin. I will live in my bathroom for the next few hours. Ok you get the picture no use going any further.



I still though can not believe that in the morning I am having both ends done. Do you remember the post I did about I had rather have hemorrhoids coming out of both ends than to be in my pain? Well I remember at the end of the post I said Oh God why did I say that because with my luck this could happen. Seems like to me whatever you put out there in the universe it comes back to you one way or the other.



Anyway I just pray that this doctor looks like a penguin so it won't matter that he is looking at not the best part of me to look at. Of course now at my age what is the best part to look at. Another time and post I guess we can discuss that issue.



So while you are eating all your yummy food today just remember there is an ole lady in Texas wishing she were with you having whatever it is your having.



It will be a long day not having a cookie or a meal but it could be worse. I could get a doctor tomorrow who doesn't know one end from the other.



Hope all of you enjoyed Dulcy's great story she wrote for us. Who is next? Remember we all have a story to tell!



Love to all



Maggie



PS

I hopefully will be back on here late Friday night or Sat morning with the results. I have been told they will know right away so lets hope this is the end of doctors for me for a long while. Go back to the Neurosurgeon on August 6th and he might just release me to go back to work.